2018 IndyCar "very tricky," says Bourdais after first test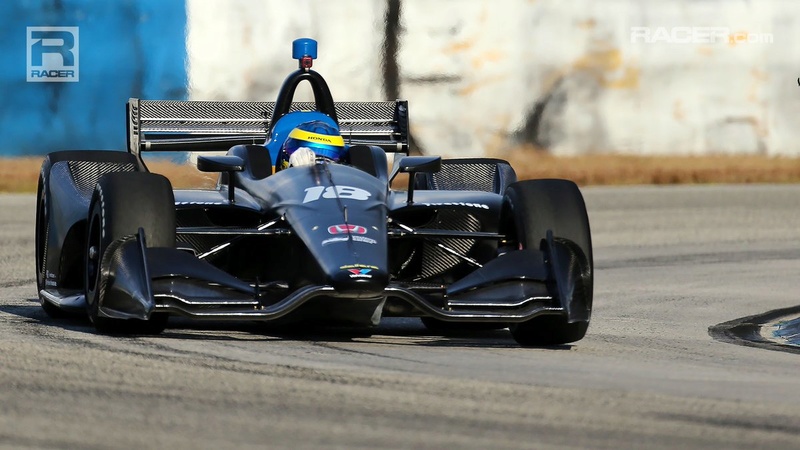 Dale Coyne Racing's Sebastien Bourdais, who got his initial test of the new spec Dallara aerokit yesterday at Sebring, says the car will be particularly difficult on street courses due to their increased ride height requirements.
Bourdais had a similar reaction to the new aero package that veterans like Scott Dixon and Tony Kanaan had after their first tests with it. It's different, especially after years of driving heavy-downforce cars.
"It's going to be up to us to find mechanical solutions to come up with stability and get the thing together," Bourdais said. "It's a very different car from what we've had up to now. It's going to require different things.
Bourdais, for whom 16 of his 36 Indy car wins have come on temporary street tracks, said that the DCR-Honda team is just "scratching the surface" of the new car's capabilities after 66 laps of the Sebring short course which IndyCar teams traditionally use to simulate a street course.
"We got around two hours on track – obviously better than nothing but there are still quite a few things that need to be worked on," Bourdais told Motorsport.com. "It's a bit of a head scratcher for everyone – very different, as you'd expect.
"When you take 25 percent of the downforce out of the car, it's not going to make it feel any nicer," Bourdais said after driving an unmarked No. 18 Dale Coyne Racing Honda (shown at bottom). "The rear is moving around a lot under braking and turning. It's a struggle, but you can't expect to fix it in two hours."

"It's going to be challenging for sure, very tricky, but we'll keep trying until we put our finger on the sweetspot. But it's clearly extremely rear ride-height sensitive which has a big side-effect of instability on corner entry and some rear locking.
"On the street courses it will be extremely difficult to make the car behave because you naturally have to run a higher car to deal with the bumps. It wasn't terrible – but it wasn't very good either."
While Schmidt Peterson Motorsports, Chip Ganassi Racing, Team Penske, Ed Carpenter Racing and AJ Foyt Racing have gained track time with the 2018 cars over the past four months (SPM and Penske worked with Honda and Chevrolet since the new cars' initial runs last July), the other teams had to wait until this month to get testing miles. Bourdais said that has inevitably made life hard for the Dale Coyne Racing team.
"The only work we could do before this test was for Craig [Hampson, race engineer] and the engineering team to come up with simulations and estimates – or guesstimates," he said. "But you know, it's so difficult without any track time before then. You at least need a first set of data to work from and that's something we only got for ourselves yesterday.
"So yeah, we're just scratching the surface at the moment, that was our first read, and we'll definitely have to go back and see if we can start to find the sweet spot."
Bourdais, who has handed over the DCR car to Indy Lights graduate and potential new teammate Zachary Claman De Melo for today's test, said that he hadn't needed to wrestle with the car on corner exits as some of his peers have reported on first acquaintance with the new car.
"Applying the power out of corners wasn't really an issue," he said. "Getting the power down in any Indy car is pretty much dictated by what rear springs you run, so that's not a big deal. Right now, what we're fighting is the way the car transitions from initial brake application to then starting to turn-in and then the increasing load at the front. That's the tricky part."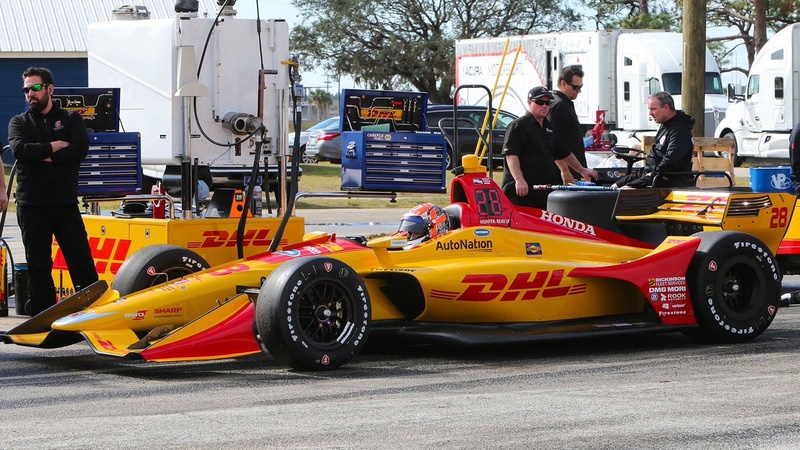 IndyCar's improved racing target achieved
Despite not yet having a chance to find a setup he likes on the new car, four-time Champ Car champion Bourdais is confident that IndyCar will achieve its target of improving the racing, even if setting new lap records will be a thing of the past.
"At a track like Sebring short course, the top speed isn't crazy-different from before," he said, "but you can tell that anywhere with a long straight like Road America there's going to be a significant difference in straightline speed, and with the reduced downforce you're increasing the brake zones, so that should help passing.
"Every lap time is going to increase a little bit though because you break track records with huge amounts of downforce, and so when you take that away you're not going to be at that same lap time, but that's really not important. It's important that we race well together, we put on a good show, and can pass each other instead of following each other in processions because the car ahead creates such a big wash that we can't get close in corners.
"I think the reads and predictions on this have been pretty accurate and everyone is feeling pretty optimistic that we can race much better now."
He added: "The other thing is, for sure it's going to be difficult to find the right compromise for the car at each track – it always is, especially in the first year of a new car. So you are going to see teams and drivers mess up and have to start from further back than they're used to.
"I'd say a lot of the time it's going to be a battle not to see who gets it right but who gets it least worst! That creates drama and a good show, and I think there are a lot of people who will like that."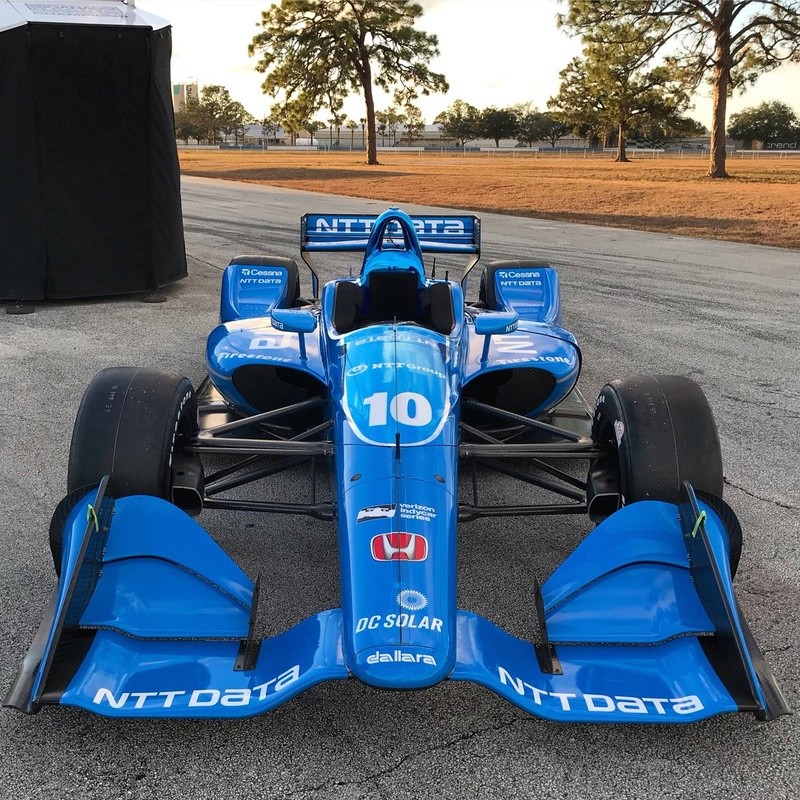 Sébastien Bourdais trouve la nouvelle IndyCar bestiale
Les essais 2018 pour la nouvelle saison IndyCar ont repris sur le Sebring International Raceway. Le Dale Coyne Racing de Sébastien Bourdais était accompagné du Andretti Autosport. Ils sont rejoints aujourd'hui par le Chip Ganassi Racing pour les 5 heures de roulage autorisées.
C'est mardi que les écuries Dale Coyne Racing et Andretti Autosport ont pris part, toutes deux à leurs tests du bloc Honda. Les sessions d'essais sont également tournées vers l'apprentissage du nouveau comportement des monoplaces 2018.
Sébastien Bourdais la trouve « bestiale »
Cela n'aurait pas été une journée de tout repos pour le staff du Dale Coyne Racing. La monoplace de Sébastien Bourdais a connu quelques soucis de jeunesse. Il y a beaucoup de nouveaux éléments sur la monoplace revue et corrigée pour la saison 2018 d'IndyCar. Certains éléments comme les kits aéro sont visibles, d'autres le sont moins comme la partie mécanique ou encore le nouveau volant.
« Les gars ont fait un très bon travail sur la voiture, tout fonctionne » se félicitait Sébastien Bourdais. « Nous pouvons régler nos problèmes qu'une fois en piste, il faut qu'on roule pour procéder à ces nouveaux réglages. »
L'immobilisation de la monoplace du Dale Coyne Racing n'a pas permis une bonne exploitation. L'IndyCar Series leur octroiera 5 heures de roulage supplémentaire.
Néanmoins, les quelques tours effectués ont permis à Sébastien Bourdais de dégager une tendance des nouvelles monoplaces. « C'est vraiment très différent de ce que nous avons eu ces 3 dernières années. »
« Nous devons repenser tous nos réglages, elle est beaucoup plus sensible » déclarait Bourdais. « Dès que l'on touche aux freins, l'arrière est délesté par le faible aérodynamique à l'arrière. Ça bouge énormément, il va falloir qu'on travaille sur ça. »
Le comportement bestial de cette nouvelle monoplace va donner un réel défi aux pilotes. C'en est terminé des monoplaces aux ailerons à étagères, il y a beaucoup moins d'appuis. Les premiers roulages vont se faire sur des œufs avant que les pilotes ne s'acclimatent.