Sébastien Bourdais : « Cela s'est retourné contre nous »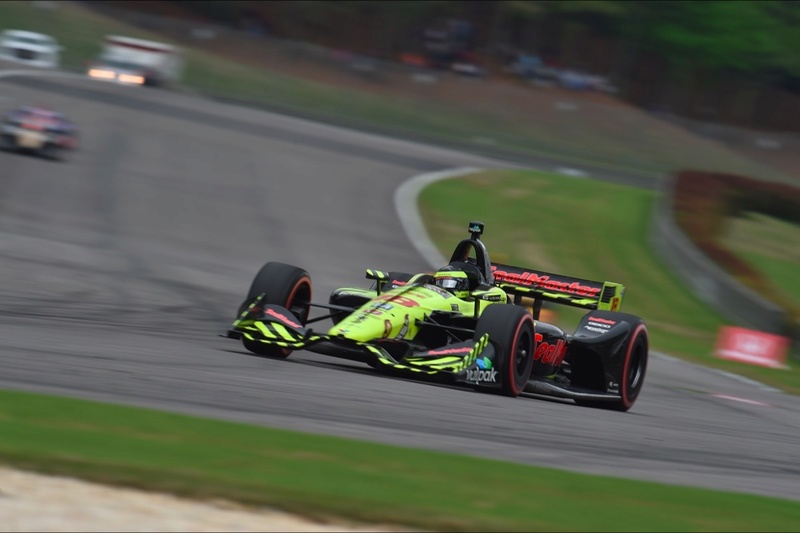 A nouveau classé dans le top 5 à Barber, Sébastien Bourdais reconnaît toutefois avoir perdu son pari de tenter une stratégie à un seul arrêt avant l'arrivée de la pluie.
5e hier à l'arrivée sur le Barber Motorsports Park en Alabama, Sébastien Bourdais (Dale Coyne Racing with Vasser-Sullivan - Honda) affichait une pointe de fatalisme quant au déroulé de la seconde partie d'une épreuve reportée de dimanche à lundi en raison de la météo capricieuse sur la région.
Deuxième derrière Josef Newgrden (Team Penske - Chevrolet) lors de la relance de la course, le Français s'est appliqué à observer une stratégie à un seul arrêt, sauvegardant le maximum de carburant pour n'effectuer qu'un seul passage par la voie des stands.
Un pari qui paraissait gagnant jusqu'au retour de la pluie dans les derniers instants. « Nous avons exécuté le plan à la perfection, commente Bourdais. Nous avons eu beaucoup de dégradation des pneus au début, mais nous avons quand même pu économiser plus de carburant que la plupart des autres.
Josef attaquait mais il semblait que nous pouvions le battre avec son deuxième arrêt et nous avons pris les devants. J'avais assez de carburant pour finir, mais malheureusement, Mère Nature a décidé d'ouvrir le ciel et il n'y avait rien que nous puissions faire à ce sujet. Nous avons essayé de rester dehors et cela s'est retourné contre nous. »
D'autant plus que le Français a dû composer avec une monoplace délicate après avoir chaussé les gommes pluie au 76e tour. « Je ne sais pas ce qu'il s'est passé mais la voiture était diabolique. Je ne pouvais rien faire. J'ai à peine gardé Scott Dixon derrière moi.
Malheureusement, vous ne pouvez pas prédire ce que la météo va offrir, donc vous devez faire un choix dans un sens ou dans l'autre et nous étions du mauvais côté de la barrière aujourd'hui. »
Sébastien Bourdais se maintient toutefois dans le tiercé de tête au championnat avant l'entame du mois de mai à Indianapolis, d'abord avec l'épreuve routière du 12 mai, suivi du grand rendez-vous des 500 miles (27 mai).
L'étonnante statistique de Sébastien Bourdais
La saison 2018 d'IndyCar Series a débuté depuis 4 courses déjà, le spectacle est toujours garanti. Sébastien Bourdais est l'un des hommes en forme de ce championnat, il détient une statistique intéressante.
L'indyCar Series a changé un peu les règles du jeu en 2018 avec un kit aérodynamique unique à toutes les écuries. Le tout, pour redonner plus de possibilités de dépassements aux pilotes. Le pilotage des nouvelles monoplaces fait l'unanimité auprès des pilotes.
Sébastien Bourdais démarre en trombe
L'an passé, la saison se déroulait plutôt bien pour Sébastien Bourdais, il était dans le Top 5 jusqu'à l'Indy500. Et puis, vinrent les qualifications d'Indianapolis, et son effroyable accident qui mit un terme à sa saison, heureusement pas à sa carrière.
Opiniâtre dans l'âme, il reviendra au volant en fin de saison, quelques mois après de lourdes fractures. Sa saison 2018 commence de la plus belle des manières. Aux premières loges du duel entre Rossi et Wickens, il récupère la victoire lors des derniers tours à St. Petersburg.
Touché, mais pas coulé
Après une victoire à domicile à St. Petersburg, quoi de mieux qu'une pole position sur ovale, à Phoenix. Sa course est maîtrisée, mais en percutant très légèrement l'un de ses mécaniciens aux stands, il écopera d'une pénalité. Cela le privera d'un bon résultat, une 13ème place finale avec un goût amer.
La course de Long Beach, troisième rendez-vous de la saison, lui offrira quelques sensations fortes. Néanmoins, auteur d'un dépassement exaltant, il sera pénalisé pour avoir empiété sur la ligne des stands suite à une manoeuvre défensive de Dixon. Une autre pénalité et un contact en piste venu d'un freinage kamikaze d'un Rookie feront que Sébastien Bourdais terminera la course au 13ème rang à nouveau.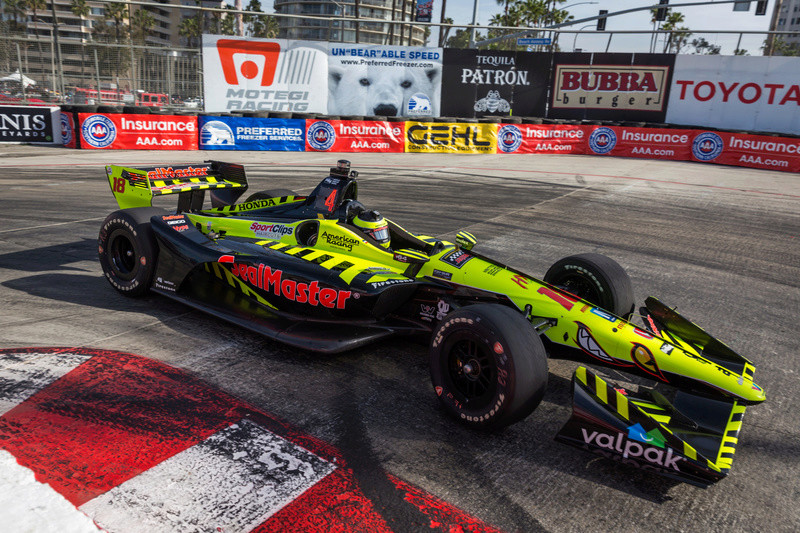 Quant à la récente course du Barber Motorsport Park en Alabama, il a encore prouvé qu'on pourrait compter sur lui. Sa superbe stratégie décalée, lui permit de faire douter le vainqueur du jour, Josef Newgarden. Probablement que sans la pluie dans les  tout derniers tours, il aurait gagné la course ou au au moins accroché un meilleur résultat que la 5ème place.
Sébastien Bourdais a mené toutes les courses
Ainsi, Sébastien Bourdais a été en tête dans les 4 courses de la saison 2018 d'IndyCar. Son accident d'Indy500 semble bien loin derrière, la performance est clairement de retour. Jimmy Vasser est arrivé en renfort chez Dale Coyne Racing, dont Sébastien Bourdais porte le projet vers le succès. Il est le troisième pilote ayant mené le plus de tours sur les 4 premières courses de la saison. Il occupe actuellement la 3ème place du classement avec 119 points.
http://sports.usatoday.com/2018/04/16/indycar-sebastien-bourdais-grand-prix-long-beach-ignites-fireworks/
Sebastien Bourdais ignites fireworks at Long Beach, steals the show
Sebastien Bourdais dives into the Turn 11 Hairpin during the Toyota Grand Prix of Long Beach. (Stephen King for Verizon IndyCar Series)
LONG BEACH, Calif. — It is my sincerest hope that when Sebastien Bourdais woke up Monday morning, there was a single question bouncing around his brain.
Not, Why did IndyCar Race Control work me over twice in the same race? (More on this later.)
And not: Why must I contend with So. Many. "Idiots"? (More on that later, too).
But simply: Are you not entertained?
Seriously, IndyCar fans. Are you not entertained? I'm not sure how you couldn't be. Not long after setting the streets of Long Beach on fire with some of the boldest overtakes in the near-50 year history of this prestigious race, the fiery Frenchman followed it up minutes later with a post-race rant for the ages.
All in all, he was a one-man show Sunday that might have just stole the spotlight from a race weekend that featured some pretty compelling acts. Whether it was the phenomenal Alexander Rossi blistering around the track en route to a dominating victory, or the Mazda Road to Indy taking a long and deserved bow as two of its graduates finished third (Ed Jones) and fourth (Zach Veach) in one of the series' premier races, the Toyota Grand Prix of Long Beach was not short on storylines.
Yet it was Bourdais' smooth moves – he picked off Scott Dixon twice within about five minutes — and subsequent wrath that enraptured social media and the IndyCar community alike. Following a disappointing 13th-place finish – despite having a car capable of much better – the impassioned Dale Coyne Racing with Vasser-Sullivan driver let fly a series of Mike Tyson-esque swings at what felt like half those involved in the weekend festivities.
ROSSI: Long Beach winner putting his stamp on 2018 season
VEACH: Fourth-place results strengthens will to succeed for rookie
HIGHLIGHTS: How the Toyota Grand Prix of Long Beach played out
Here's an excerpt from his post-race rant where he starts out by describing getting caught in pit lane when a caution came out and goes on from there:
"Race Control could have waited a couple seconds before closing the pits, but they didn't, and we went to the back where we had to race idiots," he said. "I was racing (Charlie) Kimball side-by-side, and he gives me no room, and he bent both of my toe links on the right side. It was pretty much game over from there. I made a mistake because of it trying to pass him again later going into Turn 9. The car wouldn't turn anymore. Then in the next corner Jordan King felt like a hero and took us out. After that I had to deal with another idiot, Matheus Leist, who tried to crash both of us a couple of times.
"There really wasn't much to salvage after that. It's really disappointing. The car was good. I drove the wheels off it. Passed a bunch of guys and we have nothing to show for it."
Unless you're one of the parties involved in his comments, it's hard not to smile after reading such a refreshingly honest post-race assessment.
Yes, there's something to be said for handling disappointment with discretion and for keeping disputes private rather than a public airing of grievances.
That's certainly a road Bourdais could have taken, but where's the fun in that?
There's also something to be said for the entertainment value provided by a guy who shoots from hip and says what's on his mind. Especially in this sport. This is a fan base largely populated by a generation of people who grew up idolizing a hardcase from Texas named A.J. Foyt. That guy didn't take anything from anyone, and if someone ticked him off, he let them know about it.
Despite being born thousands of miles from Texas and decades later, Bourdais is cut from the same cloth. He isn't the only driver in the paddock with a little "Super Tex" in him, but he's certainly one of few who boasts the resume required to go on the tirade he did.
With four CART championships and nearly 40 CART/IndyCar wins to his name, Bourdais has more than earned the right to say what he wants to whom he wants when he wants.
Pit strategy gamble doesn't pay off for Bourdais
It's not an exaggeration to say the rain cost Sebastien Bourdais his second victory of 2018.
One a one-stop strategy, Bourdais was sitting pretty in the dry with about 25 minutes left in the two-hour time race. He was in second place and with leader Josef Newgarden facing his second pit stop under green, the four-time IndyCar champion was going to sweep into first place by about six seconds.
"I was saving fuel and tires and it was checkmate," Bourdais said about an hour after the rain-delayed race had finished. "We had the perfect pace and strategy and [Newgarden] wasn't going to beat us.
"But we can't control the weather."
A race that started in sunshine turned wet with about 20 minutes to go. A light rain turned into a hard one and that sent everybody scrambling into the pits.
Almost everyone.
Newgarden, who dominated the race from the pole and led 73 of 82 laps, came in for rain tires on Lap 71 and Seb took the point. It gave him a 13-second lead over the 2017 IndyCar champion and that's when owner Dale Coyne started asking his driver to stay out and hang on.
"Dale is a gambler and he was going for the win because all we needed was one yellow, one guy to spin out and the race is going to end under caution because it was timed," said Craig Hampson, the engineer who has meshed so well with the 39-year-old Frenchman in his American open-wheel career.
"Seb did all he could but when it started raining harder and harder, he had to come in and we waited three laps too long, It cost us second place for sure."
A winner in the season opener at St. Petersburg, pole-sitter at Phoenix and the best reason to watch Long Beach when he charged up to second place before being hosed by an untimely caution flag, Bourdais finished fifth on Monday.
He's still third in the Verizon point standings heading for Indianapolis but knows it could have been so much better.
"If it just doesn't start raining so hard we're in great shape," he said. "But Dale is the boss and I owe him that [to take a gamble], it just didn't work out today."
LATE RAIN DROWNS BOURDAIS' BID FOR BARBER MOTORSPORTS PARK VICTORY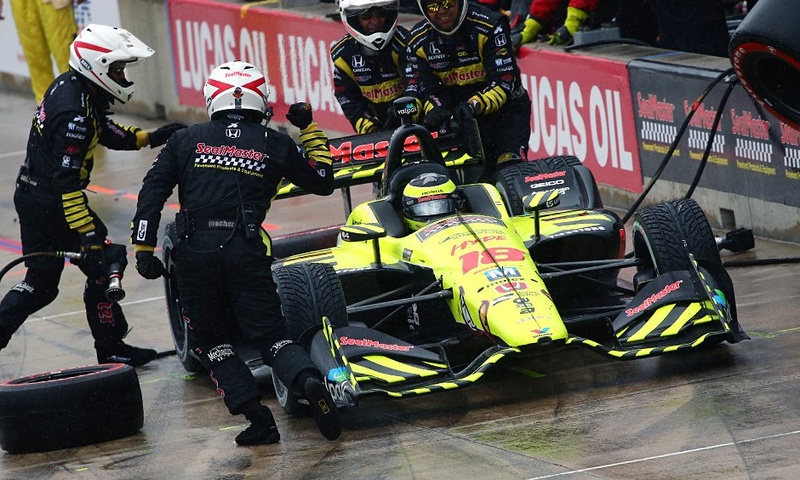 Without rain, Sebastien Bourdais likely would've celebrated in victory lane. Because of it, he huddled under a tarp behind his team's pit stand after today's race and explained his frustration with a fifth-place finish.
Bourdais led the timed conclusion of the Honda Indy Grand Prix of Alabama presented by America's First by 13.615 seconds with 9 minutes remaining in the timed race at Barber Motorsports Park. Unfortunately, it had started to rain. Bourdais was on slick tires and most everyone behind him was charging forward on rain tires.
Ultimately, Bourdais had to pit for rain tires with 7 minutes left and surrendered the lead to Josef Newgarden, who went on to win as Bourdais faded to fifth.
When asked if we would've won had the rain held off, Bourdais nodded affirmatively.
Honda Indy Grand Prix of Alabama"Yeah, because I really took good care of my tires and I'd saved enough fuel that I really wasn't going to need to do that (stop for fuel) down the road," he said. "It's a tough one, man."
After postponement because of rain Sunday after 22 laps, the race restarted today with Bourdais in second place behind Newgarden. Bourdais and engineer Craig Hampson devised a strategy to save fuel to get the No. 18 Team SealMaster Honda for Dale Coyne Racing with Vasser-Sullivan Honda into the lead.
It worked initially, as Bourdais took over first place when Newgarden pitted on Lap 49. Bourdais stayed in the lead for five laps before pitting, then regained the lead when Newgarden pitted again on Lap 71 – with about 15 minutes remaining – to take on rain tires and get a splash of fuel.
That's when it became tricky for Bourdais and Hampson. Initially, the rain was light, but it steadily increased in intensity, making it more difficult to maintain car control on slicks. Eventually, Bourdais pitted for rain tires, then struggled to find grip.    
"Believe it or not, I think it was probably harder on rains," Bourdais said. "The last lap was the killer. I think we lost probably six seconds on that lap, maybe even more. I was losing three seconds a lap on the on the last two or three laps on rains. I don't know exactly what happened there. The wheels fell off the wagon, for sure."
Bourdais had to hold off Scott Dixon in a drag race to the finish line for fifth place. He's third in the Verizon IndyCar Series standings with 119 points, trailing only Newgarden (158) and Alexander Rossi (145), who finished 11th.
"Pretty frustrating," Bourdais said. "Overall, the guys did a great job again, but the weather decided what it was today."
BOURDAIS TO CO-HOST GAME SHOW NETWORK'S 'DAILY DRAW

'
https://www.indycar.com/News/2018/04/04-25-Notebook
HEADING TO MAY, BOURDAIS FINDS HIMSELF IN FAMILIAR POSITION
When legendary New York Yankees catcher Yogi Berra coined one of his most famous "Yogi-isms," he could have been referring to Sebastien Bourdais.
It's been "déjà vu all over again" for the No. 18 Team SealMaster Honda driver, who's third overall in points after four races It puts him in the thick of the championship fight for the second straight season.
In 2017, the Frenchman looked to be a contender to score an unlikely fifth Indy car championship by punching well above modest Dale Coyne Racing's weight in the first four races, which put him fourth overall in points.
Fast forward to Monday's Honda Indy Grand Prix of Alabama presented by America's First and Bourdais once again has Dale Coyne Racing with Vasser-Sullivan in title contention after four races. In fact, the No. 18 fought for the victory in the completion of the rain-delayed event, leading before a late shower threw the win to reigning champion Josef Newgarden. Bourdais ended the race fifth and insisted it was "tough day."
"Everyone (on the team) is executing perfectly," said Bourdais. "The good news is we finished fifth and keep putting ourselves in position. Our pace is good and we are in the championship mix."
Bourdais' strong start to the 2018 season actually has him one spot better in the points than he was last year heading into the INDYCAR Grand Prix (3:30 p.m. ET Saturday, May 12, ABC and Advance Auto Parts INDYCAR Radio Network). That's bad news for the rest of the Verizon IndyCar Series field because, as demonstrated in Alabama, a little better luck could have seen the No. 18 reach the winner's circle at least three times in 2018. Bottom line is that Bourdais has most definitely deserved more podium finishes than the single one he's scored so far.
After repeating as winner in the season-opening Firestone Grand Prix of St. Petersburg, Bourdais looked to be the driver to beat in Desert Diamond West Valley Casino Phoenix Grand Prix. He started on pole at ISM Raceway and led early, until a mistake in his first pit stop cost him dearly. He came in too hot on the concrete in his pit box and missed his marks, knocking down his left-front tire changer. Although the crewman was uninjured, a drive-through penalty for the incident put Bourdais on his back foot for the rest of the night and he ended up 13th.
He crossed the finish line in the Toyota Grand Prix of Long Beach in 13th place, too, but emerged as the talking point of the race after putting on a passing clinic that almost overshadowed a dominant victory by Alexander Rossi.
Bourdais punctuated the race with an unbelievable overtake going into Turn 1 on Lap 47. Chasing Scott Dixon for second, Bourdais went three wide to the right as his prey tried to lap another car and then dove left for the apex underneath Matheus Leist, making it a jaw-dropping, three-car overtake in one fell swoop. Though he had to surrender the position back to Dixon when INDYCAR deemed the pass illegal because he crossed the pit lane exit line while making it, Bourdais quickly regained the spot from Dixon and was charging.
He took the lead 10 laps later and put himself is a prime position for a top finish, but an ill-timed yellow ruined everything. It went from bad to worse after contact with other drivers damaged his car and he barely managed to stay in the top 15.
While being back in the championship battle is welcomed, it's likely certain that one 2017 moment Bourdais doesn't want to relive is the engine failure in the INDYCAR Grand Prix that saw him park his car four laps into last year's race and drop out of the top five in points. Considering his speed in the first four races, it's probably a good bet Bourdais will do better than that 22nd-place finish on the Indianapolis Motor Speedway road course this year.
A week after the INDYCAR Grand Prix disappointment, Bourdais' 2017 championship hopes came to a sudden halt in a heavy accident in qualifying for the Indianapolis 500.
He certainly isn't looking for any "déjà vu" at Indy this year, instead setting his sights on remaining a contender throughout the entire 2018 season.
Because, in other immortal words of Yogi Berra, "It ain't over 'til it's over."