Roar Before the 24, Libres 4 : Felipe Nasr devant, les Cadillac trustent le top 4
Felipe Nasr a dominé la quatrième séance d'essais du Roar Before the Rolex 24. Le pilote de la Cadillac DPi-V.R/Whelen Engineering Racing a tourné en 1.36.937, soit 0.083s plus vite que la Cadillac du Wayne Taylor Racing de Ryan Hunter-Reay. Deux autres Cadillac suivent au classement avec Spirit of Daytona Racing (Cheever III) et Mustang Sampling Racing (Fittipaldi). Deux ORECA 07 suivent dans la hiérarchie avec Jackie Chan DCR Jota (Brundle) et CORE autosport (Dumas).
Sébastien Bourdais
a placé la Ford GT #66 en haut de la feuille des temps de la catégorie GTLM. Le Manceau a pris le dessus sur les Porsche 911 RSR de Laurens Vanthoor et Fred Mako. Les chronos sont toujours aussi serrés avec 7 des 9 autos dans la même seconde.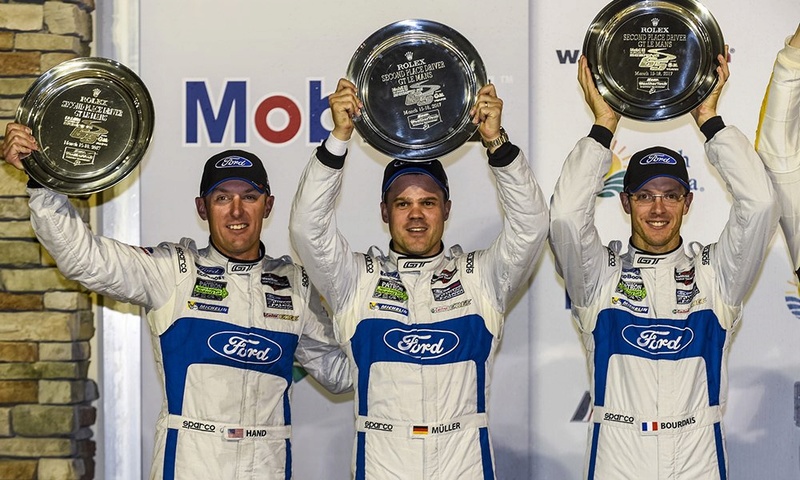 La catégorie GTD a été dominée par l'Acura NSX GT3/Michael Shank Racing de Mario Farnbacher. Deuxième temps pour la Porsche 911 GT3-R/Manthey Racing de Sven Müller qui continue de bien figurer. On retrouve quatre marques différentes dans le top 5 avec Acura, Porsche, Lamborghini et Audi. Seize GTD ont terminé en 0.957s.
Practice 5 Results
http://d24c1jjhvw5da9.cloudfront.net/fr/wp-content/uploads/sites/2/2018/01/03_Results4.pdf